For many years now I've enjoyed visiting Crown King. Sometimes it's fun to take the back way up
and do some rock crawling, or get there faster and take the front way. But either way, it's always
great to check into the Cedar Roost! Clean rooms, great view, and great people every time.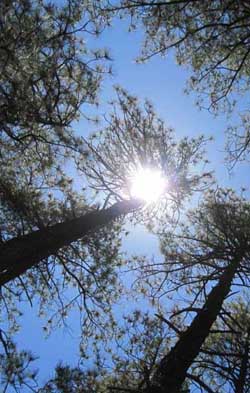 Rooms 1 & 2 have a queen size bed with a private deck overlooking the creek.  Both rooms come with a small refrigerator, private bath and full coffee setup.  Room #2 has a television/DVD player with an assortment of movies (for those who find they can't sleep in the "absolute" silence of Crown King).   Rooms that sleep 2 are $100 per night.
Rooms 3 & 4 have a queen size bed as well as a futon that folds out to sleep 2 (if desired).  Each room comes with satellite TV, refrigerator, microwave, and full coffee setup.  Rooms that sleep 4 are $125 per night.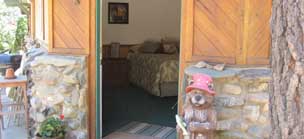 From the first time you arrive to your tenth visit many years later you will always feel right at home, comfortable and relaxed during your stay here.
The lodging at The Cedar Roost Inn , in the beautiful Bradshaw Mountains is second to none. The Cedar Roost offers clean, comfortable, cozy, fun lodging with great views and main road access. If your in town for the purpose of attending one of the several yearly activities that Crown King is famous for, we are only a stones throw from all the action. If your not familiar with the many yearly fun activities that occur in Crown King, just refer to our activities page on this site or feel free to call us and ask. When here, don't be shy! Just ask us about where to go and see amazing views, or where nice hiking areas are, or directions to the lake. Forget something from home? Just ask us and if we can, we will do anything we can to help and help you get back to having fun and relaxing. We want you to have fun, relax, and leave with a smile.
The Cedar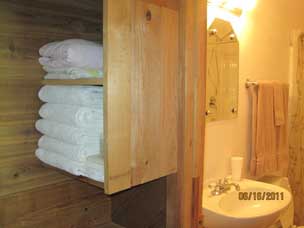 You will notice real quick how this inn got it's name. There was a lot of cedar used in the construction of these rooms and it adds a great scent and feel.
Talk To Us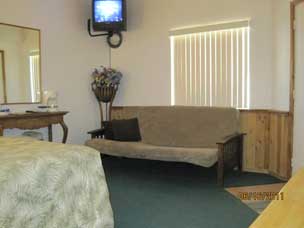 If this is going to be your first visit, we suggest that you talk to us, tell us what you need or what your looking for and let us guide you in the right direction.
The Decks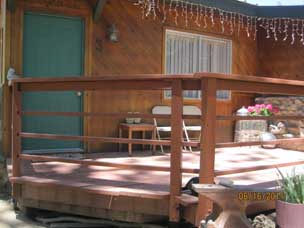 Sometimes it's just great to sit on the deck, look around, listen, and relax. Here we have plenty of deck space with great views.
Plenty Of Space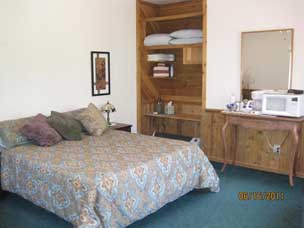 In our larger rooms there is plenty of space to move around. You won't in any way feel cooped up. There is plenty of space in our larger rooms to have fun.
The Hammock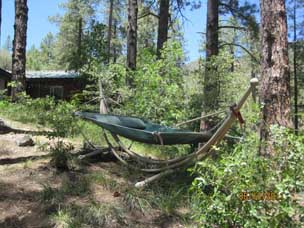 Hear that? It's this wonderful hammock calling you to come and relax, take a nap, read a chapter of a book and just take in some clean air.
Romance Room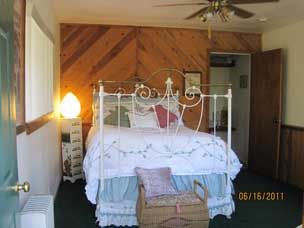 As mentioned before, this room is and has always been popular among the very romantic. And, this bed is so comfortable you will need serious will power to get up and go see the mountain!
Clean Bathrooms
After a day in the forest hiking, fishing, jogging, riding quads, exploring and having fun, our clean bathrooms and hot showers are just the thing before getting a good nights sleep.